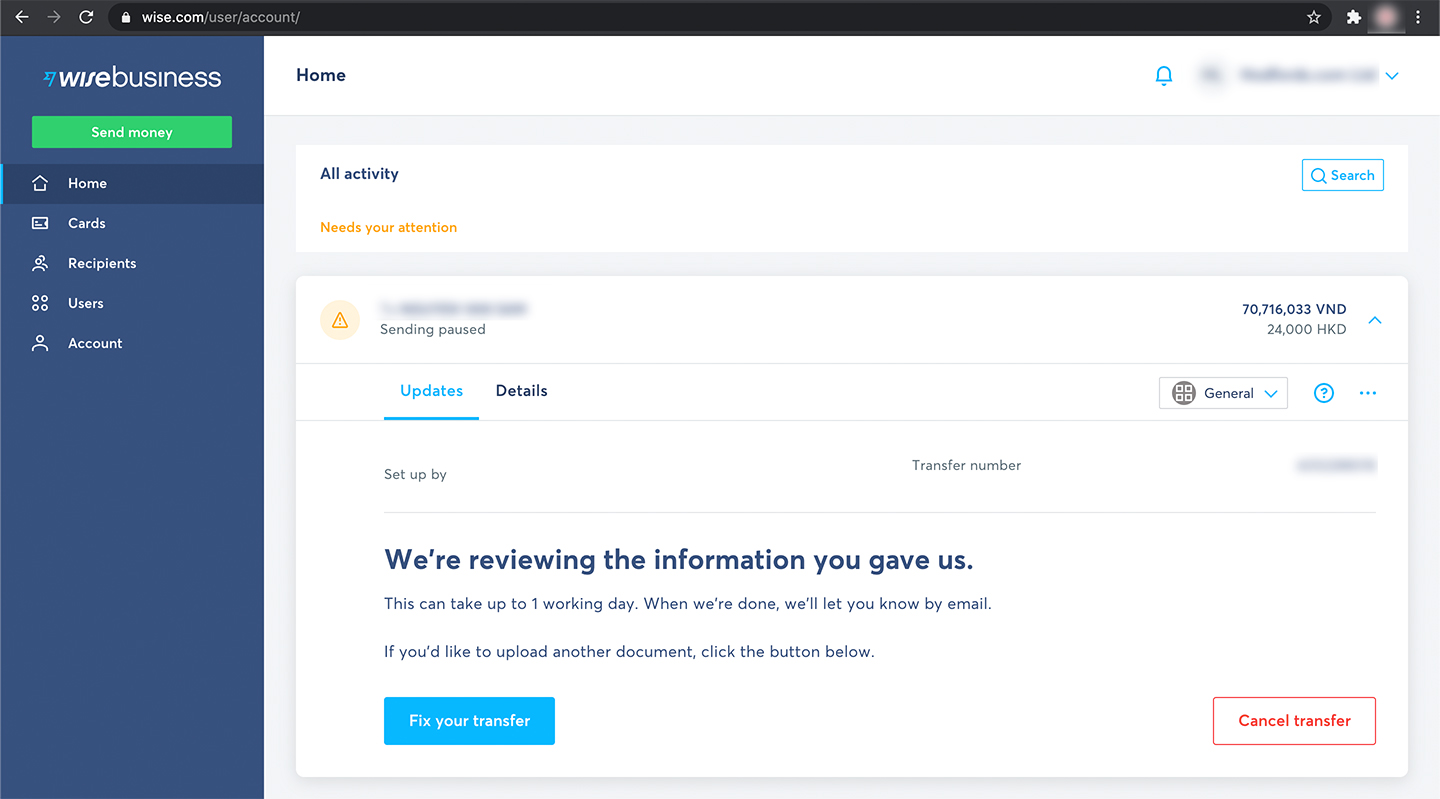 The transfer was made on the 28th May 2021 and all documents submitted to them for verification; on the 3rd June 2021 the same screen appears.
Each time I called the customer service representative it was a different agent giving me a different answer; the first agent called "Bretta" who I called on 31 May 2021 who told me that it could take up to 2 working days and that the documents I had submitted were sufficient for the verification process and if it wasn't then the verification would get back to me. 2 days pass and no news and the transfer remains in limbo; I then call again on the 2 June, 2021 and speak to Afrah who promises to get back to me within 3 hours – again 3 hours pass and then no reply and then their Singapore office closes so no further support possible.
On the 3rd June, 2021 – I call again and this time feeling somewhat peaved that I had been lied to and fobbed off by 2 customer service representatives. Grace picks up the phone and I tell her that I will hold until the account is verified; I would not take "the verification is being processed" as an answer as this line could be used every day until 2025; I told her to get on the phone and get the verification team on the job and report back to me the exact status. I needed names of people in the verification team to ensure that she was actually speaking to a real person – I told her to speak to the verification team and then report back to me with the status within 15 minutes which she did and a verification team member looked at my application and said that we need to provide some additional documents – the person's name at the verification department was called Huzafah because the other person Daniel was unreachable…. It seems that "Working From Home" for these guys means nothing gets done.
After sending through the required documents my account was duely verified and the transaction was finally sent through so Grace was the only person who was able to get the problem solved.
I then ask myself; why was such a simple task made so difficult? Why do these companies have customer service representatives at all? Do these companies even care that the customer service is dysfunctional and ruining their brand's reputation? It seems not.